The Best WooCommerce Payment Gateway: WooCommerce Payments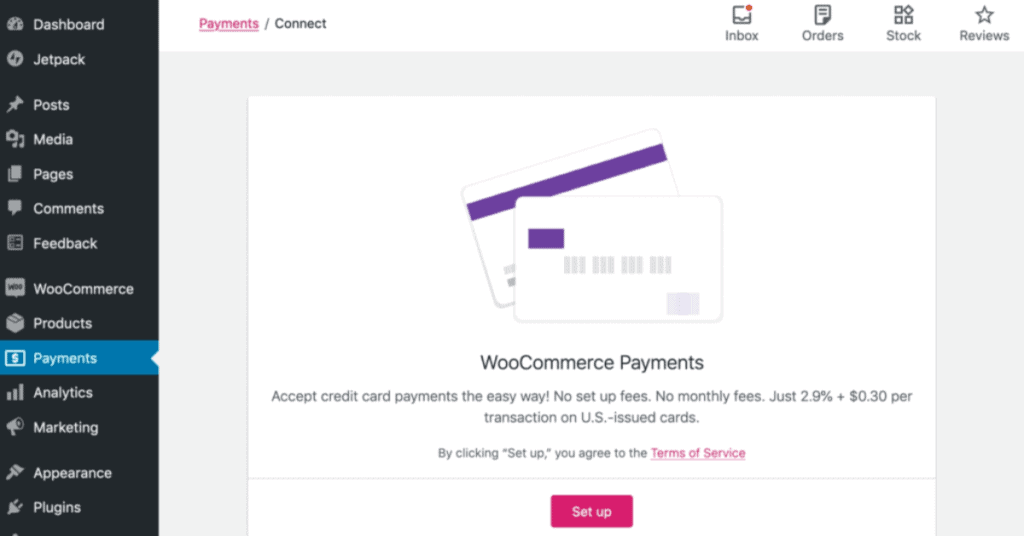 How to Set Up the Official WooCommerce Payment Gateway
You can't operate an e-commerce store without a payment gateway. Like any business, you need to be able to accept money for your products whether you're running a dropshipping company or a subscription service.
E-commerce businesses that utilize the powerful WooCommerce platform previously had to rely on third-party payment gateways to process payments for their WooCommerce stores.
However, that all changed in 2020.
In May, WooCommerce launched WooCommerce Payments, its own payment gateway. Now, all you have to do is confirm that it's right for your business and then set up both the online and offline systems.
Don't worry, it's all very straightforward and easy — like WooCommerce itself.
Here we'll cover:
What to look for in your payment processing solution
What WooCommerce is
How to set up WooCommerce payments
How to accept offline payments
What You Need in a Payment Processing Solution
There are several factors you'll want to consider when choosing a payment processing solution for your e-commerce store:
Security
Types of payments
Speed
Fees
Overall user experience
Your top priority must be security. A failure to safeguard your customers' credit cards and other personal information will sink your business. Thankfully, nearly every popular payment processing system guarantees this — including WooCommerce Payments.
The next most important factor when choosing your payment processor comes down to what types of payments you'll accept. At the very least, you need to be able to accept credit and debit cards.
However, the more options you have, the better.
If you can accept Apple Pay, Google Pay, and PayPal, you can improve your conversion rates.
For companies doing business in Asia, it's a good idea to look at cash-on-delivery (COD) solutions. It's especially popular in Southeast Asian countries. In the Philippines, 80% of merchants accept COD for digital purchases.
The next factor to keep in mind while choosing a payment processor is how quickly they send you the money. If your products are expensive and you're short on cash flow, speedy payment can be vitally important.
However, for most e-commerce businesses, fast payments are far less impactful than the fees associated with processing each payment. To mitigate the risk of cart abandonment due to additional fees, most merchants end up shouldering these costs.
Keep in mind that some payment processors charge more for transactions coming from outside the U.S. So consider your target market and the point-of-purchase for most of your customers.
Lastly, you want to make the customer experience as seamless as possible. Poorly designed checkout processes are a significant reason that about three out of four shopping carts are abandoned.
Minor inconveniences, such as having to create a new account or slow loading times, can lead prospects to decide against making a purchase at the last minute.
Amplify Plugins' Quick Checkout plugin can help you mitigate the risk of cart abandonment by simplifying and expediting the checkout process. Another plugin that will help is Auto Update Cart, which ensures users have exactly what they want in their shopping carts.
What is WooCommerce Payments?
WooCommerce Payments allows you to manage all of your store's transactions from a single dashboard. It handles everything from payments, refunds, disputes, and deposits to create a seamless user experience.
WooCommerce Payments allows you to accept all credit card and debit card transactions. Additionally, it can be completely integrated with the Stripe plugin, so there is no need to enable extensions or embed third-party payment widgets on your site.
WooCommerce Payments is free to download, with charges accumulating per transaction:
2.9% + $0.30 fee for cards in the U.S.
3.9% + $0.30 fee for cards outside the U.S.
These are the same fees and rates Stripe charges, but this new system offers a more seamless experience for customers.
There is one small catch: new users will have to wait seven days before they receive their first deposit from their sales. Then, your sales from that week will be deposited to your bank account in one go.
WooCommerce Payments is currently only available to merchants selling in the U.S. and selling in U.S. dollars. WooCommerce plans to roll out these features to other countries in the future.
Additionally, the company plans to add a myriad of other features including:
eWallet
Instant deposits
Card information saving
Subscription services support
In-person payments
How to Set-up WooCommerce Payments: The Best WooCommerce Payment Gateway
Before you're able to set up WooCommerce Payments, you'll need to have the latest versions of WordPress (WordPress 5.3+), WooCommerce (WooCommerce 4.0+), and PHP (PHP 7.0) installed. You'll also need an SSL certificate (to use in live mode) — this helps assure customers that their payments (and your site) are secure.
Once you're ready, download WooCommerce Payments, install it, and activate it on your WooCommerce store. Once the extension is active, click WooCommerce > Payments in your WordPress admin and click Get Started.
Then, all you need to do is complete the sign-up process.
Note: You also have to be running the latest version of Jetpack to authenticate each request.
Setting Up Offline Payments
One wonderful aspect of using WooCommerce as your e-commerce platform is that it doesn't exclusively cater to online transactions. It's also possible to use it to accept payments offline.
With offline payments, the transaction is done outside of WooCommerce. This means that whoever accepts the payment must then go into WooCommerce to mark the order as completed.
If your shop receives offline payments, you have to enable the Cash on Delivery (COD) option in WooCommerce.
To set up the offline payments, go to WooCommerce > Settings > Payments and toggle the switch to enable Cash on Delivery.Then, click on the Set Up button to modify the settings.
There are three settings you'll want to change:
Title and description: This is what customers will see when they click on the COD option. Fill in instructions for how customers can use COD.
Enable for shipping methods:Choose shipping methods and rates to be offered for the COD option. You'll want a shipping method where either you deliver the product or customers pick it up themselves. You can restrict the COD option to local pickup. If you're delivering the product, you can even implement an additional cash on delivery fee. Just go to WooCommerce > Settings > Fees and Discounts > Payment Gateways.
Accept for virtual orders: Tick this box if you're accepting COD for virtual products, such as e-books.
Also, don't forget to go to the shipping tab to change your local pickup settings so they work with your new COD option.
Final Thoughts: The Best WooCommerce Payment Gateway: WooCommerce Payments
Having the right payment processing solution for your e-commerce store is vital. If someone decides they want to give you money, it's best to make it as easy as possible for them.
The seamless integration of WooCommerce Payments into your WooCommerce online store does exactly that. It really is the best WooCommerce payment gateway.
By taking a few minutes to set it up to work online and offline, you create a better customer experience.

Want to further improve the customer experience on your website?
Talk to the e-commerce plugin experts at Amplify Plugins to learn what else you can do to boost your conversion rates.