How to Set Up an Online Ticketing System for Live Stream Events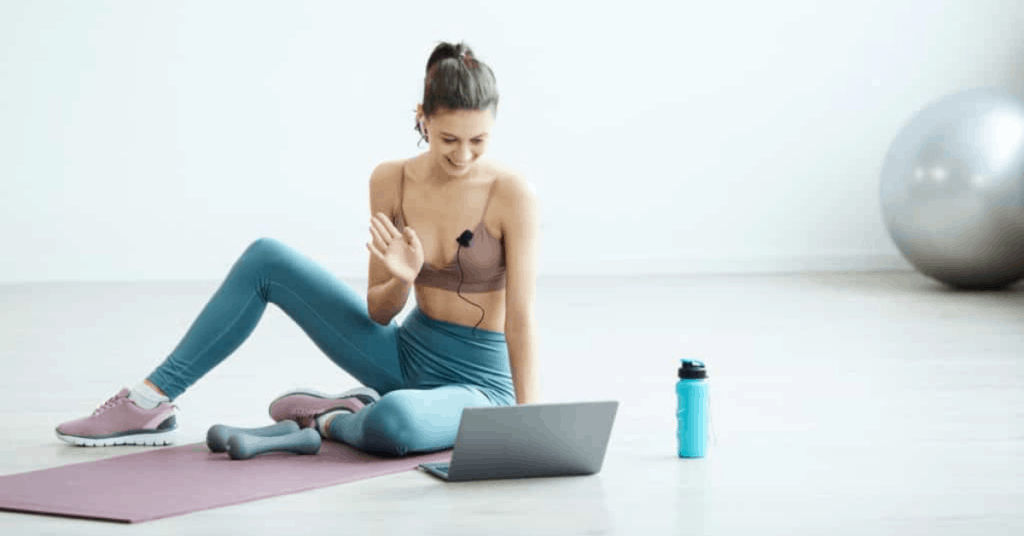 When Facebook Live was introduced in 2015, social media marketers hailed 2016 as the year of livestreaming. At the time, they had no way of knowing that the pandemic would make 2020 an even bigger year for livestreaming and online events.
Livestream events have been around for some time. However, they've recently become increasingly mainstream. The pandemic has limited travel options and more people are stuck at home.
Online events can come in myriad varieties — from a Call of Duty tournament to a WordPress conference, or musicians offering a livestream performance.
The easiest way to sell tickets for an online live event might be through third-party sites, such as Eventbrite. However, if you're hosting the event on your WordPress site, why not use WordPress's tools to keep all the revenue and website traffic to yourself?
Here we'll explain:
The benefits of using WordPress to sell tickets
What plugins you can use to sell tickets on a WordPress site
How to use WooCommerce to sell tickets to an online event
The Benefits of Using WordPress to Sell Tickets
There are three primary reasons to sell tickets for your livestream event on your own WordPress website:
You get to keep more of your revenue
You bring more people to your website (versus sending your traffic away to a third-party)
You have more control over the ticketing process
When you set up your WordPress website to sell tickets directly, you'll avoid third-party processing fees from a ticketing service. Many services let you pass the fees on to your customers. However, if you go this route, you run the risk of cart abandonment from those unexpected fees.
One way or another, those fees cost you money.
Additionally, keeping ticket sales on your website means people will have to visit it to make a purchase. As a general rule, the more traffic going through your website, the better.
From the ticketing page, you can funnel visitors to other sections of your website, engaging your audience, decreasing your bounce rate, and increasing the time spent on each page — all of which are good for your search engine optimization (SEO).
Lastly, if you have a strong brand image, it's helpful to maintain control of how ticket sales integrate with your site. You can decide how you want the buying process to feel, how you want to include add-ons, and exactly what you want it to look like visually.
How to Sell Tickets Using Event Registration WordPress Plugins
The easiest way to set up an online ticketing system for your live events through WordPress is to download an event registration WordPress plugin. Though there are some free plugins available, you should expect to pay for premium features — if you need them.
How you are charged for ticket sales via plugin can vary. Usually, you will either pay a flat-rate for a subscription to the plugin service or you will pay a percentage of your event's profits.
The top WordPress plugins for ticketing are:
My Tickets

The My Tickets plugin allows you to sell tickets online and offline. It is free to use in its basic form, but there are a number of premium add-ons you can buy to go with it, depending on your needs.
The key features of My Tickets include buyer account creation (save your customers' details for future checkouts), ticket code verification with a mobile device or QR code scanner, and the ability to run ticket sales reports.
The major drawback of the free version is that it only supports non-cash payments through PayPal. If you want support for online payment gateways such as Authorize.net or Stripe, you'll need to purchase a premium add-on. You'll have to do the same to offer discount codes or accept in-cart donations.
Tickera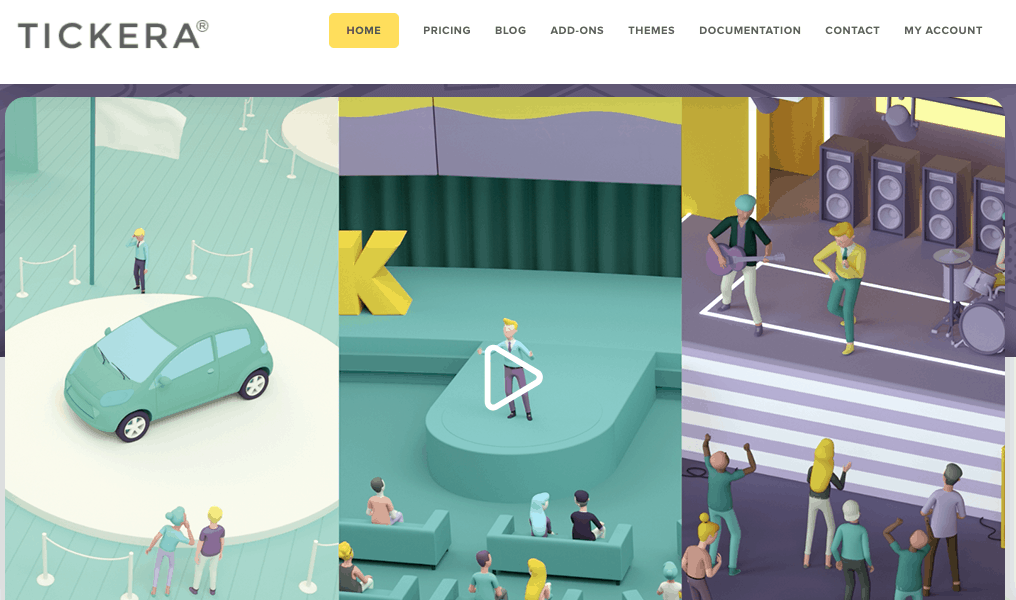 Tickera is another free event registration plugin for WordPress that offers pay-for, premium add-ons. Though primarily used to sell and distribute tickets, it can also be used as an event calendar.
Tickera's key features include seamless integration with WooCommerce, the ability to accept payments from multiple channels, and the tools you need to design your tickets.
How to Manage Your Events Using WordPress Plugins
Sometimes you need more than just the ticketing service to manage your events. If you plan to run more than one event (or your events span multiple dates), you may want to combine a ticketing plugin with an event management plugin. You may also choose a plugin that can do both.
The top three WordPress plugins for events are:
WP Event Manager
Events Manager
FooEvents
WP Event Manager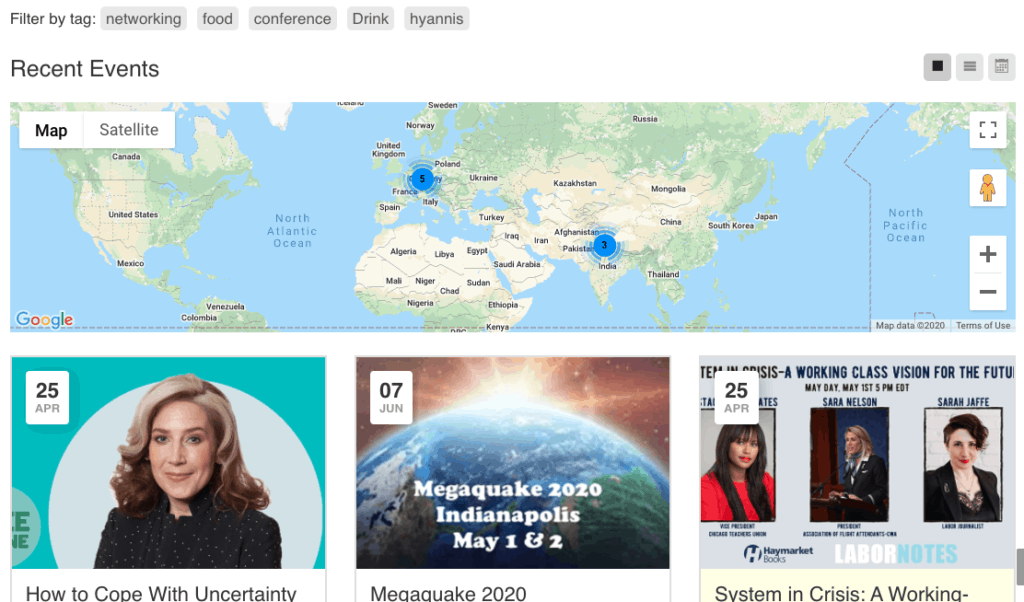 WP Event Manager is a free plugin with premium add-ons available for purchase. Optimized for speed, thisis one of the simplest and most lightweight WordPress event plugins.
The primary feature of WP Event Manager is its event dashboard which allows you to visualize and manage multiple events, preview events, and add widgets.
Events Manager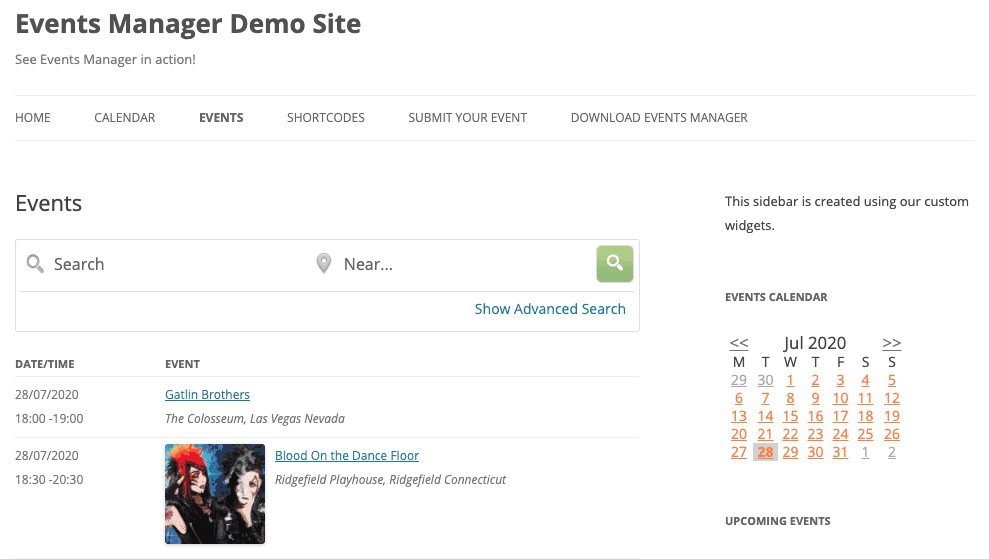 Events Manager offers both a free and premium version of their plugin (starting at $75). This event registration plugin allows you to set up and create events from one dashboard.
The Events Manager plugin supports Zoom webinars and meetings. It also lets you add calendar and location widgets on your event page. However, if you want to run your own ticketing, you'll need the premium version to get payment gateway support.
FooEvents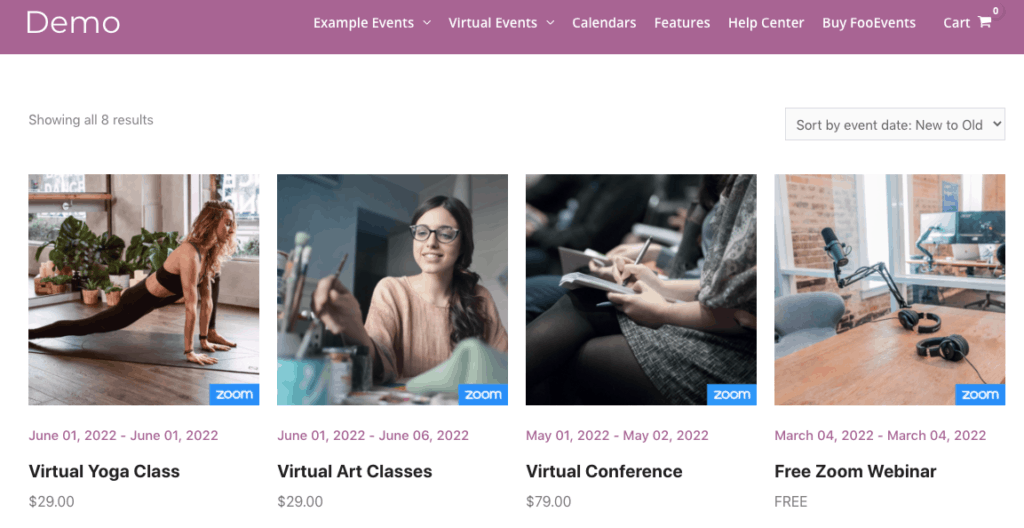 FooEvents (starting at $99) allows you to manage your own online events and sell tickets through WooCommerce. Because it's built for the WooCommerce platform, you can sell your tickets alongside digital and physical products.
Additional features for FooEvents include calendar, attendee, and ticket management.
Additional Plugins for Your Event Registration WordPress System
The key to any successful e-commerce system is ensuring your customers have the smoothest user experience possible.
Most frequently, this can go awry during the final moments of the checkout process. Complicated checkout processes or hidden fees put the typical cart abandonment rate between 55% and 80%.
But, with the Amplify Plugins Quick Checkout plugin you can decrease your cart abandonment rates by reducing the time it takes to checkout.
In addition to making sure your customers have an easy user experience, it's a good idea to consider using the checkout process to collect additional information about your event's attendees. Ask questions that will help to better inform your future programming and marketing.
Amplify Plugins' Conditional Checkout Fields plugin allows you to do just that. It uses conditional logic so the form fields that appear for each customer are based on what's in their shopping cart. Use this functionality to ask questions that match up with the specific event the user is registering for.
Final Thoughts: Using an Event Registration WordPress Plugin for Livestreams
Without a doubt, streaming live (or recorded) events is a fantastic way to create additional revenue for your company while boosting brand engagement. Though there has been a spike in livestreaming's popularity due to the COVID-19 pandemic, it will inevitably continue to be a popular way for consumers to attend events for the foreseeable future.
It makes sense to use plugins like WooCommerce to create your own online ticketing system. When you fully integrate the ticket buying process into your own WordPress site, you're no longer directing traffic — and revenue — to a third-party website.
Reach out to the experts at Amplify Plugins to learn more about which e-commerce plugins can boost your bottom line.