Web Personalization Trends 2020: Our Top 5 Predictions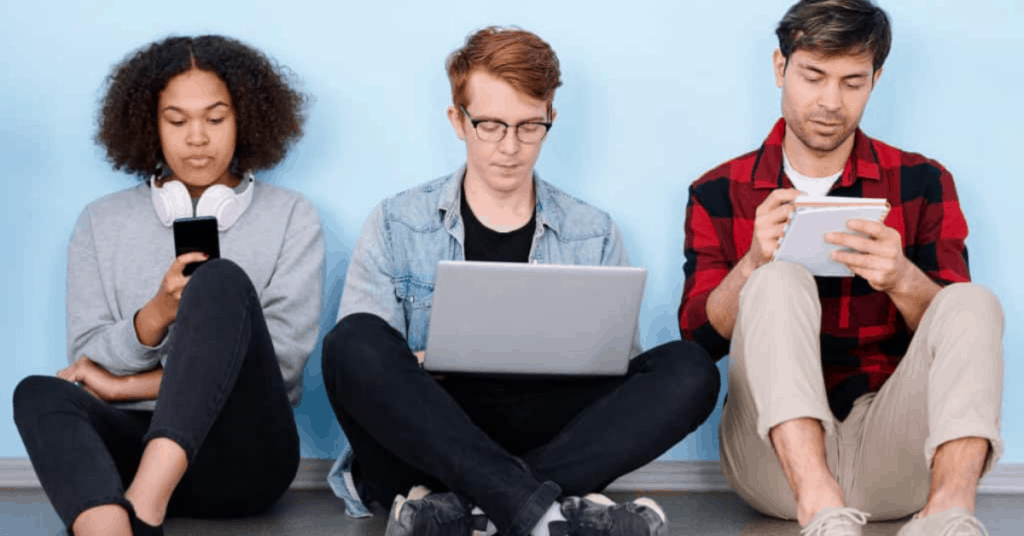 Personalization has been a point of focus for marketing for the longest time and for good reason. In 2017, 90 percent of leading marketers said personalization had a significant impact on profitability.
For many years, this web personalization was offered on a case-by-case basis. However, expectations have since swollen, the customer has taken the driver's seat, and now going forward, it's demanded.
Let's look at some personalization trends data:
According to Salesforce, 76 percent of consumers "expect companies to understand their needs and expectations".
In a report by SmartHQ, 72 percent of consumers say they only engage with personalized messages.
A survey by Accenture reveals that 91 percent of consumers are inclined to shop with a brand that recognizes, remembers, and provides relevant offers and recommendations to them.
Clearly, the customer is king. The following web personalization trends predictions for the coming year, therefore, are not based on what marketers would like to do but what the consumer wants, judging by recent research.
With a focus on web personalization, the following are the top five trends that we're likely to see come 2020:
#1: Personalized Product Recommendations
Product recommendations are a great timesaver for the shopper. By conveniently sharing their personal shopping history with their favorite retailers, consumers have realized that they can greatly abate the risk of shopping fatigue.
In the future, we're likely to see this expectation grow.
When they visit a website, consumers will expect to see retailers track their behavior for more personalized offers. This could involve giving recommendations based on what customers in a similar situation have ended up buying in the past. Or, it could be based on the same user's past purchase history.
In a study conducted by Barilliance, an Average Order Value (AOV) of $44.41 jumped by 369 percent when prospects engaged with a single recommendation. Unsurprisingly, the most engaging type of recommendation was the one based on "what customers ultimately buy".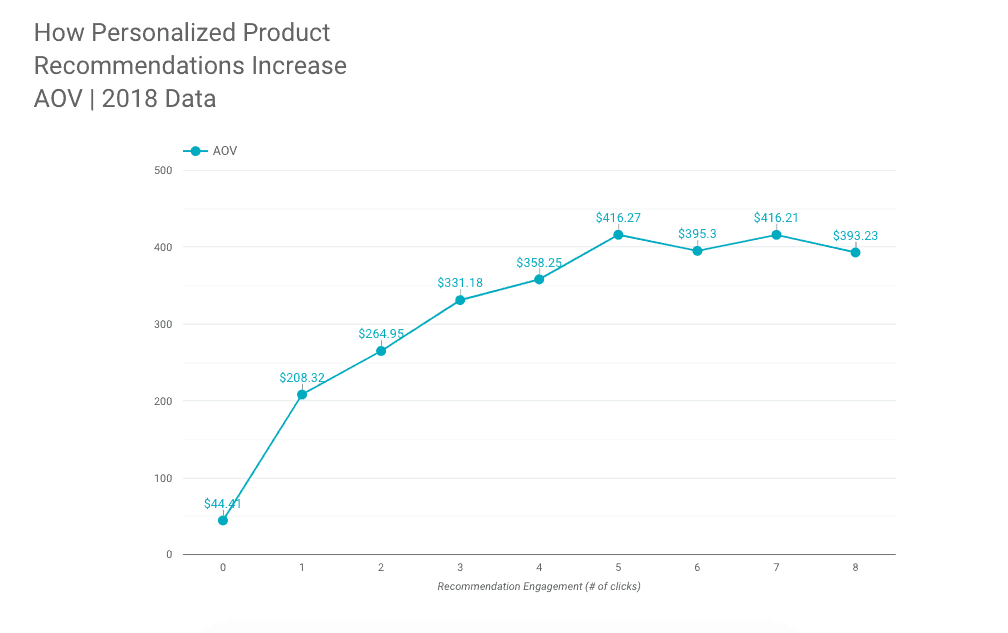 A similar study by Salesforce supports these findings:
Shoppers were 4.5 times more likely to add an item to cart and equally as likely to complete the purchase if they engaged with the recommendation.
#2: Tailored Social Proof Messages
As an extension of "what other customers bought", social proof is likely to do exceptionally well when it comes to recommending products.
Beyond offering recommendations based on the user's behavior, websites will create decentralized databases that include the current visitor's network. The customer will think, "when you say 'other customers', who exactly are these people?", and the seller will be able to say, "Sally from Chicago bought this item".
Past studies have shown a great number of people seek out opinions from review sites and independent product reviewers during their purchase journey. If they can get this proof right on the website through testimonials, numbers of customers, and personalized messages, it just makes their work that much easier.
Social proof is especially powerful if it comes from someone the prospect already knows.
According to Nielsen, 82 percent of Americans seek recommendations from family and friends before making a purchase. As the circle of trusted people grows, it will be up to the website to intervene and conveniently provide this information.
#3: Email Upselling Based on Personal Details
When it comes to communication, it's no wonder that consumers expect the same level of personalization. To make subsequent sales, businesses will have to attend to individuals as they are, not as part of a group.
Personalized emails stand out in the inbox as highly relevant and tailor-made. They are thus more likely to be opened and result in more customer satisfaction.
Getting personal is expedient:
Personalized subject lines can increase your email open rates by up to 50 percent.
For some businesses, birthday messages have resulted in more than 340 percent higher revenues than standard promotional emails.
More than 62 percent of consumers are "happy" and "excited" to respond to a retailer if the message is personalized.
With data gathered from the user's experience and feedback on the website, businesses will be better equipped to execute more successful upsells. This data includes shopping behavior, geographic location, cart recovery, page visits and product views, and browsing history.
#4: Customized Website Displays
A dynamic website is one that contains dynamic pages, content, scripts, and other changing elements. It displays different types and formats of content every time it's browsed. Essentially, the content on a particular web page can be changed depending on the visitor, day and time, geographic location, and other factors deemed important.
There are numerous possibilities for personalizing the user experience using dynamic websites. Content can be displayed based on the visitor to offer a really unique experience based on what they are likely to find most appealing.
For example, you could show a banner with ski jackets to a user in Yellowknife, Canada and at the same time display one with bathing suits in Mexico City. In the world of personalized experiences, static websites will soon be outdated.
To create a dynamic website, you'll need a database of customer information. This will help you display content based on accurate demographics, behavior, interests, and geographic location.
#5: Subscription-Based Recommendations
Businesses that offer access to content, such as media companies, are seeing more and more people adopt the subscription model of buying.
However, this isn't just limited to media. Other types of businesses that offer repeat service are experiencing the same kind of growth. Notable examples include start-ups such as Stitch Fix, a personal styling online service; Blue Apron, a meal kit service; and Dollar Shave Club, the personal grooming product maker.
Consumers sign up for such services and receive the respective products on a regular basis — usually monthly. They get to enjoy a convenient, cheaper, and most importantly for many, personalized shopping experiences.
According to McKinsey, people subscribe for three main reasons:
To automate the purchase of commodity items, replenishment subscriptions.
For highly personalized experiences, curation subscriptions.
For access and members-only perks, access subscriptions.
Of the three, curation subscriptions are by far the most popular, making up 55 percent of the total subscriptions.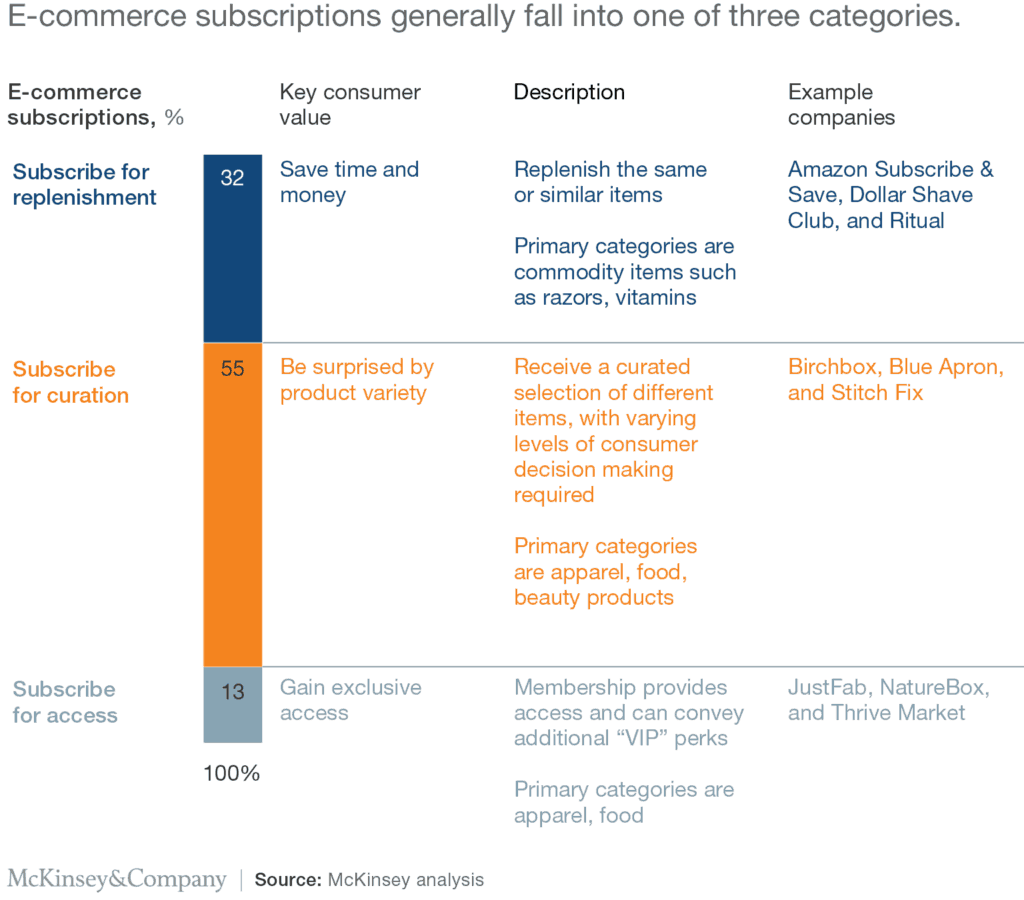 This speaks to the continued role of web personalization trends in shopping, the element of surprise being key to the delightful experience.
Final Thoughts: Web Personalization Trends 2020: The Inevitable Role of CRM Software
Web personalization will play a crucial role for business success across all industries. While ecommerce represents the ripest market for web personalization trends, fundamentally, any business that wants to reach its customers online will have to practice some level of web personalization.
The need for proper pooling and management of consumer data cannot be overstated when it comes to offering personalized experiences. With this in mind, customer relationship management (CRM) software will remain a requisite tool for businesses that want to use their websites to increase their revenue.
What are your thoughts regarding the most impactful web personalization trends for 2020? Tweet your thoughts at @AmplifyPlugins!